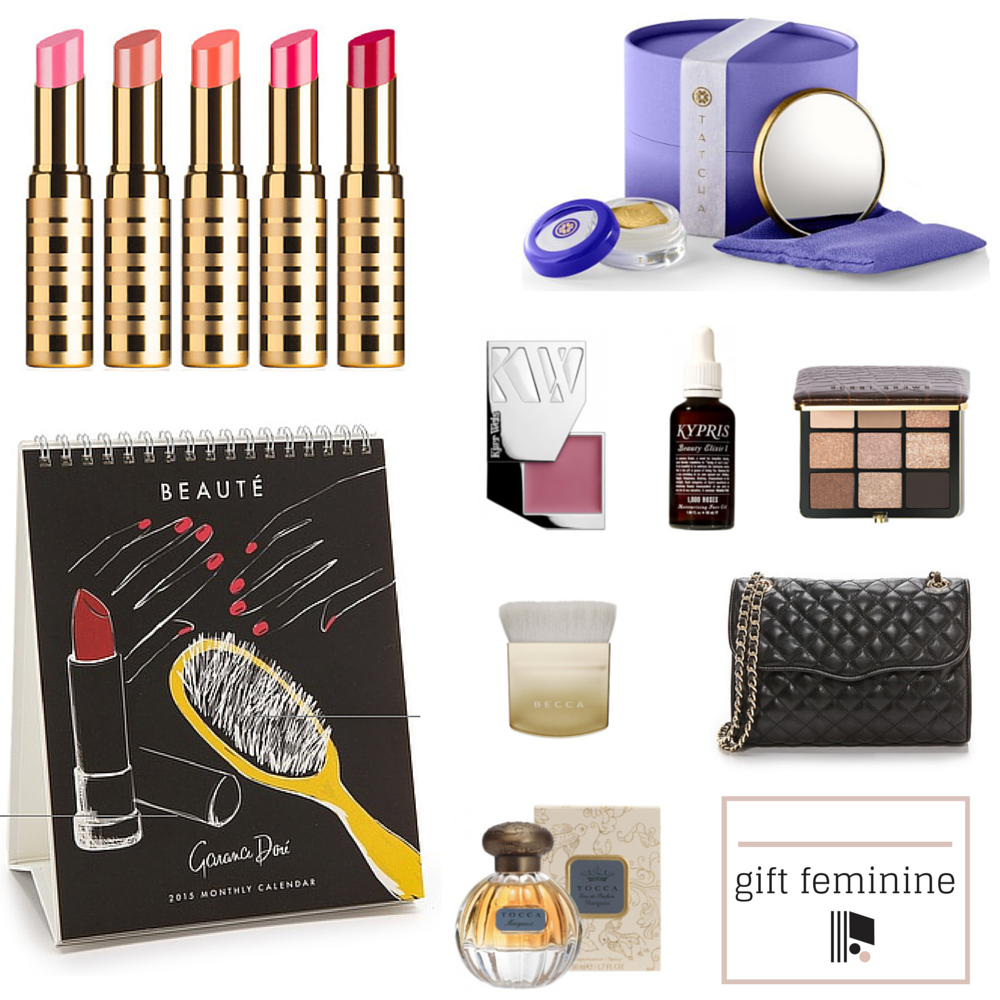 Femininity is all about the grace and elegance of being your own woman. I don't see feminine as girly or bubblegum but as a stamp of individuality, however you choose to express. In me, this takes form more often than not in a grey t-shirt, pink cheeks and some brassy accessories. How it takes form in a holiday gift guide is through statement pieces designed to add a little edge to your daily routine.
Don't you just want to pull a Beautycounter Lip Sheer out of your bag RIGHT NOW just to oogle that tube? The colors – six in total – are sheer and designed to complement all skin tones and the plant-based formula is free of any harmful additives.
For holiday, Rifle Paper Co teamed with photographer Garance Dore and the end result is some stunning pieces of paper! Love the whimsical beauty prints on the 2015 desk calendar.
A signature scent is the ultimate expression…one that also happens to look great on a vanity. TOCCA Margaux is the jam. Part sultry (woodsy vanilla notes) and soft (violet and jasmine).
Gift 'The One' – a brush by BECCA (in a fancy gold holiday "coat") that you can use to do just about anything. This one brush replaces the function of 10 others!
If you're a really fancy gift giver (or self-gifter), may I suggest the Rebecca Minkoff Quilted Affair Bag? The gold chain sold me on this design majorly.
Her palette game is always on point during the holiday. Bobbi Brown Warm Glow Eye Palette is filled with bronzy metals, rose golds and neutral browns that you will wear every day.
The most feminine beauty oil there ever was… Kyrpis Beauty Elixir 1,000 Roses! It literally has the essential oils of 1,000 Bulgarian roses and massaging this into skin gives you a glow and all sorts of aromatherapeutic benefits.
There's no makeup quite like Kjaer Weis. The weighty compacts are meant to be refilled and are a statement all the way. I recommend the cream blush Lovely for any skin tone.
"Kokoro" refers to a "special little something" in Japanese and the team at Tatcha assembled the most thoughtful kokoros. The Golden Lip + Mirror Duo comes with Tatcha's Gold Camellia Lip Balm and a palm-sized mirror all bundled up in a Tatcha blue canister.