Favorite things are in full effect and I couldn't continue this holiday theme without talking about EcoTools. I use these brushes every time I put makeup on and continue to be so impressed by the quality, aesthetic (they're cute as heck!), price and variety. I like to gift beauty treats to friends and if I'm giving any type of makeup, I love adding in the perfect tool to accompany. It's like giving someone a jersey and also a ticket to the game.
It's going to be a very EcoTools holiday this season. The Beautiful Complexion Kit even wraps itself.  You can fold the box up and loop the silver ribbon through the openings to tie it all together. Instant presentation! I use these four brushes the most – the Mattifying Finish Brush is awesome to apply all types of powder and the Skin Perfecting Brush is a dream to blend in tinted moisturizers and cream blush. The set is a steal at under $20 for all four brushes and EcoTools also has a $3 off coupon at WALMART that you can snag here. Even better!
I grew up more excited by my stocking on Christmas morning than any gift under the tree and it's a tradition my mom has carried into adulthood for me (and me for her). Sometimes the tiniest presents are the most thrilling. EcoTools Mini Essentials Holiday Set is stocking material to a T. And unlike other mini brushes, these are the same high quality as the full size just with mini handles. I use these minis to apply this BECCA highlighter trio (which sold out instantly…kicking myself for not grabbing another as a gift for a special BECCA-obsessed friend).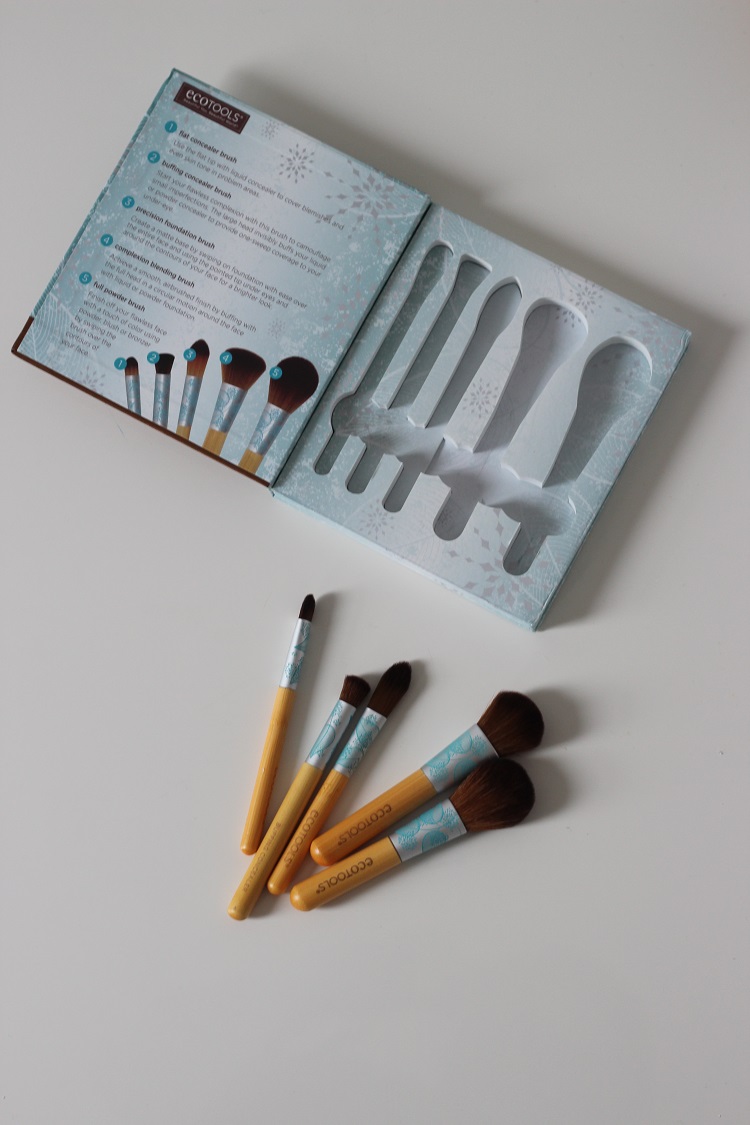 The wintry pattern on the Festive and Flawless Face Set is adorable. These brushes are somewhere in between minis and full-sized and they come housed in their own booklet with some tips on how to use. There's an awesome holiday tutorial from Teni using this set that I watched for some inspiration. She always has some new ways of using these brushes that I never think of.
Happy cyber Monday, guys. If my inbox is any indication, today's deals are better than Black Friday!
This post was sponsored by EcoTools. All opinions and tips are 100% my own. Thank you for supporting the brands that support 312 Beauty.