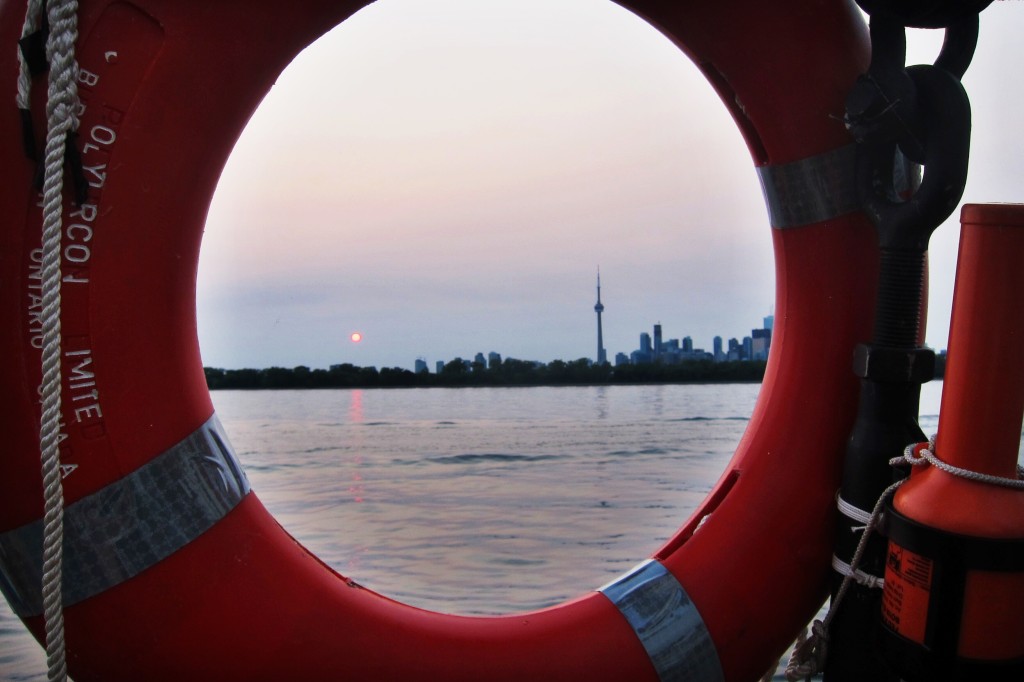 I don't think I spend enough time on a boat, guys. This enlightenment came after cruising around Lake Ontario last week during a company party.  Seeing Toronto from the water was just three straight hours of #nofilter moments happening right in front of my eyes. My coworker snapped this photo randomly a few hours in (read: a few hours of drinks in) and it is my accidental fav of the night. I think she nailed the "we on a boat" perspective. This week's pretty picks are an ode to an inspiring 36 hours in Toronto. You could say they are my "favourites." Be back soon, Canada.
ILIA Lip Crayon – We have a Canadian to thank for the best organic lipstick, ever. Not surprisingly, ILIA makes one of the best lip crayons, too. Karma Chameleon is a coral to be reckoned with! // Vasanti Exfoliator – Someone commented on this post and reminded me of this scrub. I got this in my Birchbox and it was the first I'd heard of the brand. I was all WHO makes this and how can I try EVERYTHING they make. The answer: a) Canadian group of gal pals and b) exclusively in the U.S. thanks to BB. // Cover FX Cream Concealer – A few years ago when I was in New York for The Makeup Show, I spent some time with the Cover FX team in from Toronto and learned all about their approach to complexion…which is world class coverage. // Willow Bark Tonic – Stark's founder Jessica Lafleur has a refreshing POV. She's the first to admit she doesn't even like the beauty industry…and her line of natural skin care, which she makes by hand in Montreal,  is her way of making change happen. This face tonic is legit. // Leather Clutch – How amazing are these Scout & Catalogue bags?  Classic and simple at its best. The other side of this leather bag is actually suede. //  AILA Nail Polish + Cuticle Therapy – This brand new line of nail care is developed by two physicians who are trying to create less toxic nail polish. I think they're nailing it… //  Haut Cosmetics  – My go to source on all things niche (Marissa of BeauTeaBar!) turned me on to this vegan makeup line. The brighteners are like erasers of all the things you want to hide and you can purchase mini samples before committing to the full-size, which is so convenient.
Top photo credit: Kristin Rogers
correction: AILA is actually based in LA and Nashville!