I wouldn't say I have a signature scent – I'm far too excitable to stick to just one perfume. Though, I have been wearing Lovely for 10 years, so I suppose I'm toeing that line.
I really respect the science of scent and usually turn my nose up to a bottle slapped with a celeb's name. It always seems like such a marketing ploy. Even though J. Lo Glow and that hourglass bottle with the belly chain did have a brief place in my life when I was a junior at UW-Madison. #noregrets. #youcanstillgetitonAmazon
And yet, there's Lovely, developed by Sarah Jessica Parker. I've loved it from the moment I first spritzed, back in 2005. She was still fresh in our minds and hearts as Carrie Bradshaw at that time so it was perfect timing for SJP to dip into that world. But to my surprise – and maybe yours? – Lovely has stood the test of time. In fact, it just relaunched for its 10th anniversary. I'm as excited by it today as I was then. The bottle has a vintage look and makes for great decor (hey, that matters).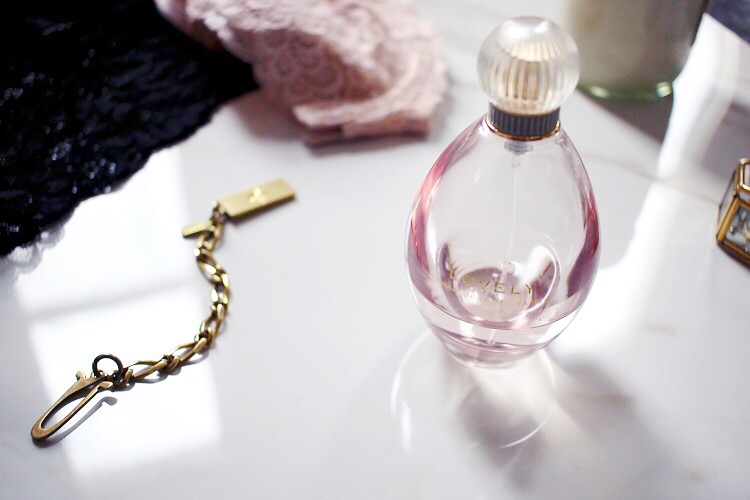 SJP did an awesome interview with NY Mag's The Cut and talked about the statements we make with fragrance, versus clothes.
"…it's immediately communicating more than your clothes, which we think tell our story, right? But clothes don't invade anybody else's space…. It's unique in that way. Your makeup doesn't do that. Your bag doesn't do that, your shoes, or your clothes, but fragrance completely lives in both worlds."
I've always thought of Lovely as delicate but lasting. When I wear it, I feel put together but not like I'm going to overpower anyone.  I'm not looking to invade your space but I would like you to walk away from me thinking I smell good. Honestly, the notes are all over the place – one is apple martini, another patchouli – so it's hard to really pinpoint the magic of how it comes together. But it does, beautifully so.  I think SJP says it best in this interview:
"When Lovely came out, I would always describe her as a really polite fragrance, that she had social grace. It was as if she stepped into somebody else's world but it was very passive, so that people wouldn't object to whatever she left behind. It was just a really nice balance of "I'm here. I'm announcing myself, but I don't want to come too close. I don't want to invade your space," and it's one of the things I'm most proud of. I know, because I spray a lot of freakin' fragrance on. I go through it."
Now that Lovely is out with a fancy new bottle for it's birthday, I can finally stock up! I've literally been limiting myself to just a few spritzes here and there since it was hard to find for a while.
Any other latent Lovely fans feel like coming out of the woodwork? Guys, we've got to come together to make sure this one stays put.