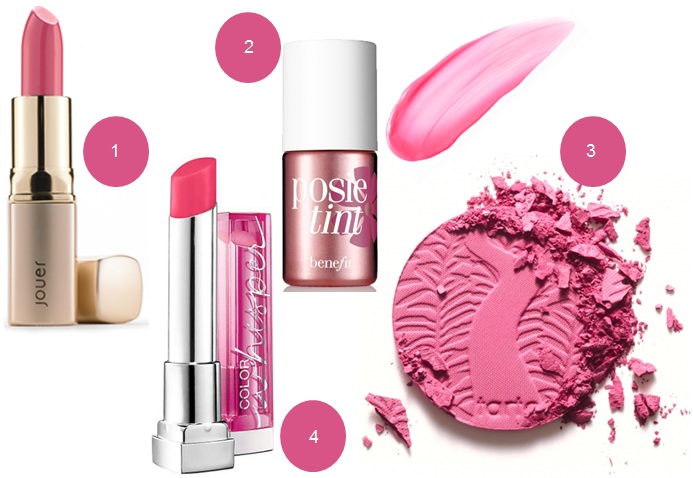 It's time to get serious about spring beauty. Forget that it's still winter and we just got our biggest snow of the season last week, spring is practically here. My allergies have already started (wtf?) so really it's just a technicality at this point. I'm ready for fresh pink cheeks and lips, worn in tandem of course. It differs from the super bright cool pinks I love to wear in winter (like this one on cheeks) in that it's slightly rosier. When rosy pinks are paired on lips and cheeks, the effect is fresh and youthful. The kind of makeup that looks good with everything.
Photo credit: Just Jared
Allison Williams wore this look on the red carpet last week and of course looked amazing. She is such a beauty! I love how she paired rosy pink lips and cheeks with major lashes. And her brows are nothing short of perfection. To recreate this look, try Jouer Hydrating Lipstick in Whitney, new this spring, on lips. It's a demi-matte finish, so it leaves a slight sheen on the lips. Another formula I am loving is the Maybelline Color Whisper. They are slightly more sheer, but the shade Rose of Attraction has just the right amount of color. On cheeks, try Benefit Posietint or Tarte Amazonian Clay Blush in Amused. Both look majorly bright at a glance but take on a more subdued pink on skin. They also have insane lasting power so your fresh, Allison-inspired look lasts all day. And if you're looking for more on Allison's eye makeup look, allow me to direct you to Glamour's Girls in the Beauty Department!
1. Jouer Hydrating Lipstick / 2. Benefit Posietint / 3. Tarte Amazonian Clay Blush / 4. Maybelline Color Whisper