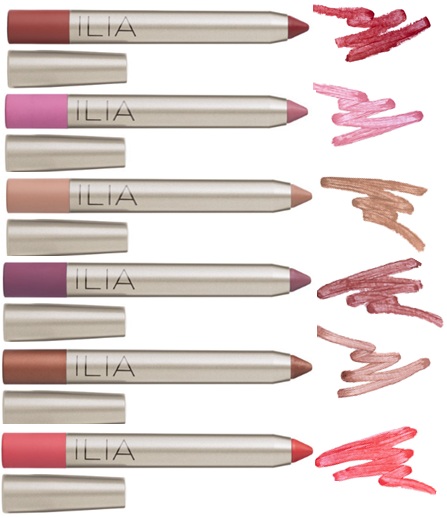 Talk about a build of anticipation! I first caught wind of ILIA's plans to launch a Lipstick Crayon back in January, and was counting down the days to the product's April launch. I'm not alone either — there have been many a Google searches on this product that have led people to my corner of the blogosphere. (Oh, hi!) And…finally, details have emerged. The ILIA Lipstick Crayon will finally be available for sale next week!
First, for those of you who are all, who is ILIA and why should I care? ILIA was founded by a savvy designer, Sasha Plavsic, who wanted to create organic beauty products that weren't just clean in ingredients but highly effective and modern. She makes one of the best lipsticks I've ever used. Not "best organic" but best overall. So yeah, an entirely new category launch for ILIA fans is big.
The packaging is sleek and modern and the colors all look beyond wearable! The Lip Crayon formula is packed with a blend of sesame, rose hip and papaya oils. Flattering colors and healing ingredients? Done and done. The only question is which color(s?) to try first?

99 Red Balloons.  A real red with a touch of blue. A straight forward classic with a recognizable, slightly irresistible name.
Call Me. Inspired by the cult film classic Pretty In Pink, this youthful shade embodies a free-spirited innocence with hints of sweet sixteen.
Come Undone. A quiet nude with a motto of less is more. The perfect complement to a sultry eye.
Dress You Up.  Our first true mauve that will suite most skin tones. This rose-berry hue is just enough color to take your lips from a day to night look.
Iko Iko. Brighten and blend with our other shades for a sheer bronze shimmer. "Talk-in' 'bout, Hey now! Hey now! Hey now!…"
Karma Chameleon. Take it up a notch with one of our brighter shades bathed in fiery coral hues.
The names slay me. Call Me, Dress You Up and Karma Chameleon are at the top of my list. Full details and collection available at ILIA Beauty.