Charlotte Tilbury is a larger than life figure; the most famous makeup artist in the WORLD. Besties with Kate Moss, decider of the trends, artist to Gwyneth, Rihanna, J-Lo — she is a fashion and beauty legend.  And, after spending an hour sitting across from her at a table getting a personal introduction to her makeup line, I decided this would be the first thing I said to her: "you have amazing cleavage." To be fair, she really does. The plunging neckline and rocker chic wardrobe is her signature and she rocks it like a boss.  She's utterly fabulous and meeting her was a thrill and honor. Charlotte made a pass through Chicago recently to introduce cult-followed makeup line at Nordstrom. I absolutely love when makeup artists develop products. Everything has such a personal touch and is rooted in practicality. In the case of Charlotte Tilbury's luxe beauty line, she packaged up 20 years of makeup artistry and beauty secrets into a range of 100 products.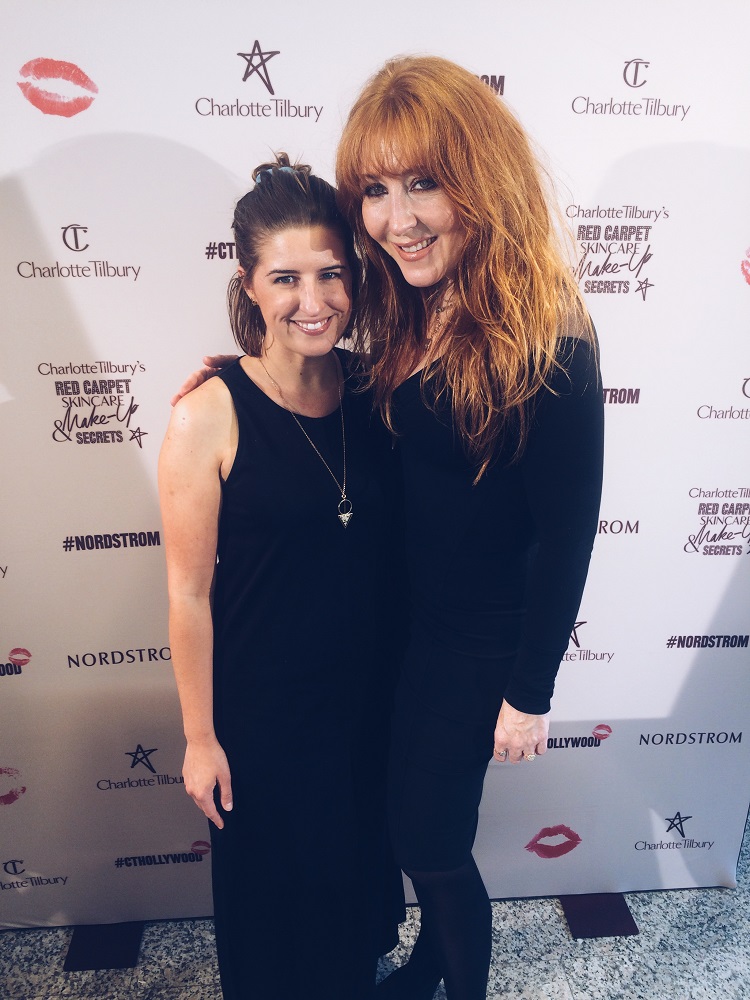 She's known for her Magic Cream – a blend of oils and vitamins that instantly brighten skin. She started mixing this on her own for clients and backstage at fashion shows. As she was working on her line, she joked that she wasn't sure she should bottle it, "this is why people book me!" Thankfully for everyone, she did and it lives up to the hype. When it first launched in the U.S., it sold out in six minutes!
As Charlotte explains, textures and products may change (they improve with time) but the looks remain the same. She believes in the transformative power of makeup — even tells a hilarious tale of how her husband has never seen her without eye makeup — and that it should be as simple to use as it is to buy. She designed 10 colour (see what I did there….) wardrobes based on the lifestyle and personality of 10 women. There's the Gisele-inspired Golden Goddess, ScarJo's Bombshell, Rock Chick ala Kate Moss and my personal fav, The Uptown Girl. The transformative nature is evident when you realize she uses the same model to showcase all 10 looks. It doesn't even look like the same girl!
Ultimately, Charlotte wants to empower all women to be their own makeup artists. With her line, YouTube videos, she assures us that she's holding our hands every step of the way.