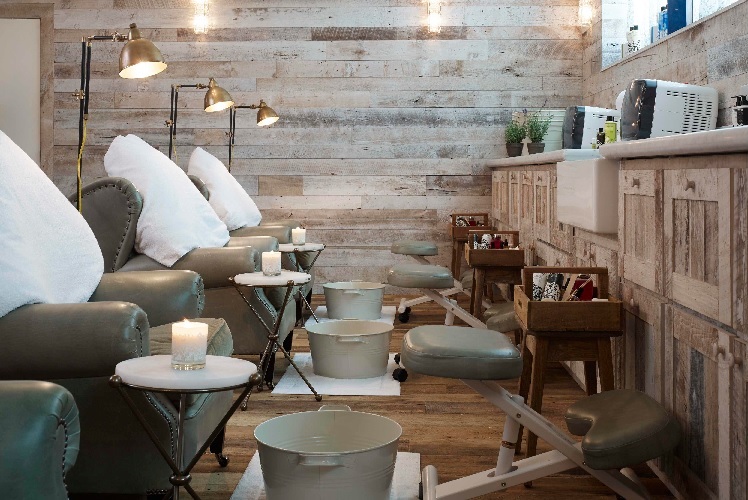 Ya read that correctly. THE BEST PEDI IN ALL OF 312-LAND. I don't go around making these claims often but when the shoe fits… or, in this case, if the shoe looks better, it's because you got your feet drilled at Cowshed Spa. Yes, drilled. More on that below…
My theory on feet is that men are blessed with lily pads and women suffer with callused soles and jagged edges. I certainly do. It's my cross to bear. It requires intense commitment to the foot file for me to maintain a smooth sole. Pedis are a nice treat but the softness is always fleeting. Every time, without fail.  Smooth soles are like unicorns. That is, until I experienced the Cowshed Pedicure. An hour of pampering that left my feet smooth long after I left that Soho House basement.
So what makes the Cowshed pedi so special?
The dim lights, barn aesthetic and rustic buckets set an unpretentious vibe. In fact, when I was in there, the founder of Soho House and Cowshed Spa Nick Jones was a few seats down totally getting his relaxation on in one of those cozy chairs. According to the spa director Christina Russilo, he lives by an "eat, drink, nap" mantra. I support that fully.
The secret to this truly being the BEST is 100% the aforementioned drill. I promise, it's not scary. It does tickle a bit, though. And, OK, it's semi-terrifying when you see the tech reach for a surgical mask and rev up the engine. My eyes bugged and I was all WHAT ARE YOU ABOUT TO DO TO ME? Truth: it looks like an electric toothbrush and isn't as threatening as the word drill implies.
For the next 7-15 minutes (I was somewhere around 12), I enjoyed the oddest sensation of this drill gently polishing off every bit of dead skin clinging to my feet. We're talking inside the grooves of your toes, alongside the perimeter of your foot and especially around your battered soles. I'm certain I've never smiled so blissfully during a pedicure. THIS is what we need. THIS is why we pay someone to touch our feet. It's a manual labor I dread with all my might.
The unpretentious vibe extends to the actual price point of the spa services. I was pleasantly surprised to learn that 60 minutes—12 of which were spent sawing off calluses—runs a cool $45. It's in that reasonable treat yoself realm. Plus, once you're done, you can chill in The Allis and gaze up at the chandeliers and/or peoples of the Soho House.