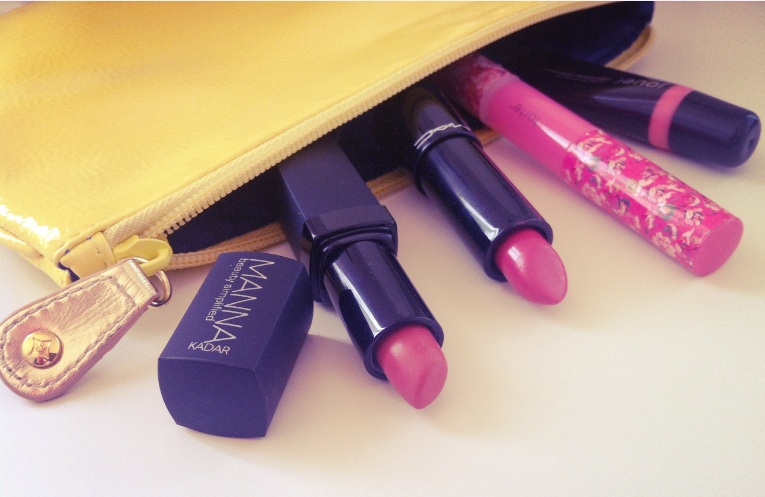 I'm still all about a pink lip for spring. Especially now that spring is real! Finally, I tucked my wool coat in the closet until next season. Since we last discussed, I've weaved in a few more shades of pink to the lip color rotation. A mix of gloss and lipstick, and lots of layering of the two. Here's the line-up, tucked in my Stephanie Johnson Malibu lemon pouch!
Discovering a new brand is always fun, and I've been enjoying the getting to know Manna Kadar Cosmetics. Especially MKC's Lipstick in Savoir Faire, a neutral rose that goes with all. This color is exactly what I wanted the famed NARS Dolce Vita to be on my lips, but that turned brown on me. I need a pink undertone otherwise my lips translate rose shades into an unflattering muddy color. MKC's formula is extra creamy and a swipe saturates my lips for hours.
MAC launched a new Mineralize Lipstick, with a fancy new bullet and packaging. There are a handful of pretty neutral colors, but my favorite is Grande Dame. It's classic rosy pink — not too bright and not too subtle. The kind of color that brightens everything up instantly. It has just the right amount of shine for a lipstick. These are totally worth a visit to the MAC counter.
Tarte Maracuja Divine Shine Lip Gloss wins for most spring-like packaging. There's something that just feels right when clicking a floral-adorned tube of gloss onto lips in May. The shade Amused is extra bubblegum in the tube but a little less so on the lips. The cool blast of peppermint you feel on lips is a bonus.
The original Jouer Lip Enhancer is a nightstand staple, and the Tinted version in Cosmo is the daytime equiv. Just like the original, it's intensely hydrating, plumping and smells slightly of roses. The soft cool pink doesn't impart too much color on its own but can be easily amped up by layering over a lipstick. I reapply this constantly throughout the day for extra moisture!
What's your go-to lip for spring lately? Do tell!