I'm rolling out a new feature here, fittingly called 312 Beauties. I'll be tapping some of Chicago's most fabulous women to tell me of all of their beauty secrets and dish on makeup must-haves. I'm excited to kick off the series with Rachel Gillman, a PR Specialist and Freelance Writer for NBC, Michigan Avenue and Serious Eats. Rachel is the ultimate media pro and knows all when it comes to BYOB and gluten-free dining in Chicago.  She also has the most enviable lashes you'll ever see. Lucky for us, she tells all.
How do you start your mornings?
I've learned that I do better working out in the a.m. Two mornings a week at 6am, I'll do the elliptical or an Insanity or P90X video in the living room. On those mornings, I'll wash my hair. I usually aim to wash my hair every other day. A trick — which you taught me! — is to go to sleep with my hair twisted on top of my head in a clip. It's a game-changer! It makes two-day hair full and fresh looking. It's a major time saver in the morning.
You have flawless skin. What is your skin care routine?
I use Cetaphil cleanser, though if I get something in a Birchbox, I always try it out. I use Lancome Bi-Facil to remove my eye makeup. I stock up on it when I buy mascara, whenever there's a free gift at the counter. I was really hooked on Chanel skin care, the Hydra Beauty Crème, but I haven't made the effort to splurge all over again on a new tub. Occasionally, I rotate Retin- A into my routine. I recently got a facial at Cellular Intelligence spa and bought the Lumiere Bio Restorative Eye Cream on a recommendation. It's very light, and I use it every morning. I use Neutrogena SPF 50 as well, especially if I know I'll be out in the sun. I'm more concerned about protecting my skin lately.
How about your everyday face?
I use a concealer from Benefit and then follow up with this Pür Minerals powder I got from Birchbox — it's more matte and it helps even my skin out. A makeup artist at the Chanel at Bloomingdales, Ana Oveido, sold me two of the Quadra Eyeshadows in Mystic Eyes and Prelude and taught me how to use all four shadows together or take it down with just one or two. She is fantastic. I'm pretty particular when it comes to my makeup being done because you know what looks like you and what you're comfortable wearing. She takes everything I do and improves upon it. I use those eyeshadows pretty much every day. And when I feel like I've done a good job and I'm near the Bloomingdale's building, I'll go and visit her and she'll tell me how I did!
I also use Chanel eyeliner, in the shade Cassis. You twist it up, so it's not a true pencil. It's precise, lasts and really lets you get in between your lashes.  My blush is Laura Mercier Pink Lotus and I use NARS Risky Business Lip Gloss. I also carry around a CO Bigelow tint with me always. A great makeup artist Jenny Patinkin (of Dollface Beauty) coached and shopped with me for makeup. I trust her judgment. She helps you create a better version of yourself.  I fill in my brows with an Anastasia Powder. Jenny helped me pick that out as well. I just use a little bit.
Now about those lashes…
I am obsessed with Lancome mascara – completely loyal to the Hypnose Drama. I buy it two tubes at a time because I never want to be without. I've used something from Tarte and another from Sephora but I always go back to Lancome. The amount of time I spend on my lashes could be considered comical. I curl them to start and put on a coat. Not a wimpy one, either, but from the base and I coat every lash. I let it dry, do some other makeup and then come back. I'll curl my lashes again, use a lash comb to separate and then apply one more coat. It never clumps. The Lancome brush is magic.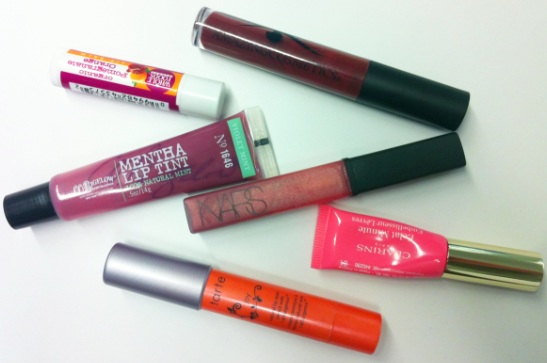 Rachel's lip wardrobe
I love Birchbox, too. What are some of your favorite discoveries?
Let me tell you, this $10 a month service fuels my beauty routine. Some of my favorite items have come from Birchbox. I love the Jouer Lip Enhancer – I need to buy a big tube! Also, I love this chubby Tarte lip pencil in a coral shade. I also got the Benefit primer, POREfessional, and I'm pretty hooked. It helps smooth my skin before makeup.  I love anything skin-related they send.
What is your beauty splurge?
I really have no problem spending money on my hair, but for some reason I do on my skin. I should probably reverse that! I love my hair stylist. I get my hair cut about every three months by Ingrid Trevino at Nancy Angelair  on Rush Street. I've followed Ingrid around to three salons. Her blowouts are second to none and she cuts wavy hair so well. I can't go much longer than three months because my ends get so damaged from heat and styling.
I've been using this donut lately to create the perfect bun. It requires a little effort but is so worth it. I was a bridesmaid in a wedding recently and they styled my hair with it so I just held onto it after the wedding. I don't like too sleek of a look. Just a little bit messy when I wear my hair up.
Where have you been eating lately?
I probably eat out about five nights a week (research!)  My favorite sushi restaurant right now is Kai Zan. It's BYOB, which is one of my favorite ways to dine. Yuzu has really good maki rolls. I'm on a whiskey kick at the moment, and am enjoying cocktails in a new way with darker spirits. I had this drink called Cocktail at Billy Sunday – potent but very drinkable.
Grange Hall Burger Bar has a gluten-free bun. When I want a true burger experience, that's my go-to. Bountiful Eatery in Lakeview is a great, healthy gluten-free cafe.  They have these pita wraps with portabella mushrooms or bison burgers inside. It's affordable and tasty. Prasino is my favorite brunch right now. They have a hippie omelet that is worth looking forward to all week!