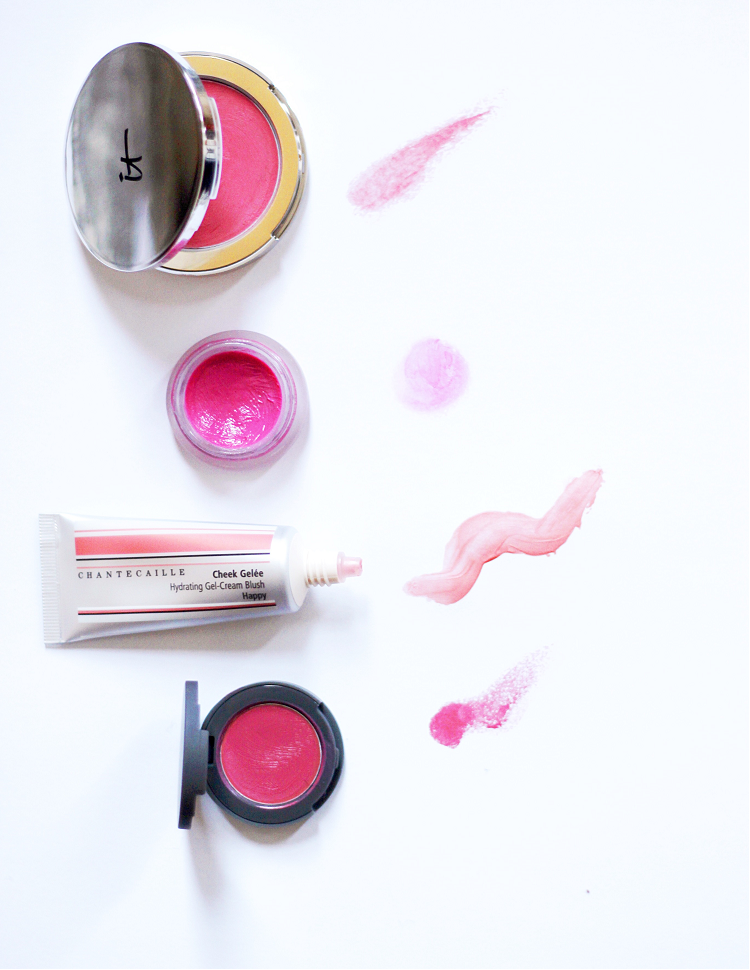 This week has me all out of sorts. Could be the staying out late on Sunday for the Oscar's, Leap Day, snow on March 1, Donald Trump or lack of endorphin release (physical activity has taken a backburner – eek!)
I'm feeling the winter blues, bigtime. I see it in my face, too. I've been a little dry and a lot sallow. I've had to bust out the mega-brightening makeup. a.k.a. highlighter is not optional. I'm strobing, hard.  I've also been using cream everything lately because WINTER and going a little heavier on blush.  I realize that I can be too subtle sometimes. I'll see myself in a picture and think, hmm…more blush would have made this better. I know cameras eat blush but I think my morning commute does, too. By the time I get to work, I feel less fresh-faced. I'm no stranger to a statement cheek so have been taking cues from years' past and dialing it up.
Right now, I'm 100% into a bright pink cheek. Stowaway's Peony, RMS Sublime (technically a Lip Shine but so perfect on cheeks) and IT Cosmetics CC+ Vitality Brightening Crème Blush in Je Ne Sais Quoi. Despite how bright they look, they are all extremely wearable. The IT Cosmetics actually has collagen and silk in the formula – that's some next level blushing.
Also, one of the most beautiful blushes (ever) is Chantecaille Cheek Gelee in Happy. This is a soft pink sheer blush. It's more subtle radiance than it is statement maker but it's completely beautiful and brightening. I saw that Reese Witherspoon's makeup artist used this shade on her at the Oscar's and layered another Chantecaille blush over it for more pop. So, now, I'm trying the layering bit out for more oomph. I absolutely loved Reese's makeup at the Oscar's. It was statement everything but her cheeks were on point.
The good news is that it's Wednesday and I'm having a good cheek day. The week can only go up from here, yes?