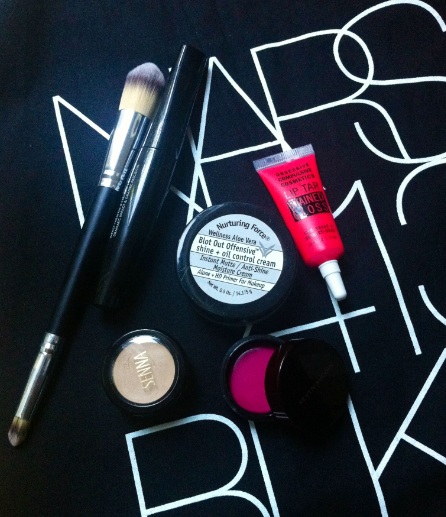 The Makeup Show made a stop in Chicago this past weekend and I ventured to the Bridgeport Art Center to check it out. It's the spot to be for makeup artists – with seminars from some of the best artists in the business and major discounts on brands. I always view this as a prime opportunity to soak up tips from the masters and do some shopping as well (hello, NARS at 30% off!) Plus, spending time with James Vincent, celeb makeup artist and Director of Education for TMS, is like catching up with an old girlfriend. He's always got the best stories and scoop. For example, he shared that this palette by TMS exhibitor Graftobian (Madison, WI-based company!) is a Fashion Week staple for Dick Page— Shiseido artistic director and one of the most in-demand makeup artists in the world.  And, of course, he spoke about some of the work he's been doing with Florence (of THE MACHINE!) lately.
I left filled with great insider knowledge and a handful of products that I'm super excited to try. This double-sided brush from Crown is a dead ringer for a Stila version that is three times the price. James says he loves using the smaller end for blending along the sides of your nose where product tends to build. As he said that, I instinctively touched that part of my face. He's so right! Another new to me brand is Nurturing Force and their HD primer, called Blot Out Offensive. It has a mousse-like texture and the experts tell me that this one is best used for spot treatments on oil-prone areas. The ingredient list is short and aloe-based, which I appreciate. A few bright multi-use products caught my attention – the new OCC Stained Gloss Lip Tar in New Wave and Kevyn Aucoin Creamy Moist Glow in Liquifuschia. The former has the appearance of stained glass on the lips and when layered under foundation, peeks through as a natural flush. I've already started using the Senna Totally Transformative Eyeshadow Primer and don't think I'll ever part ways with it! It's tinted (I use shade light) and billed as a wrinkle reducer, color corrector and eyeshadow magnet. So far, delivering on every front. And, Make Up For Ever debuted its new Smoky Extravagant mascara at the show and I got my hands on a tube! It's officially launching next month. The wand is cone shaped and the formula is super black and glossy.
While there, I also had a chance to meet the lovely Arielle. She posted a few recaps on Beauty By Arielle, so head on over and say hello!