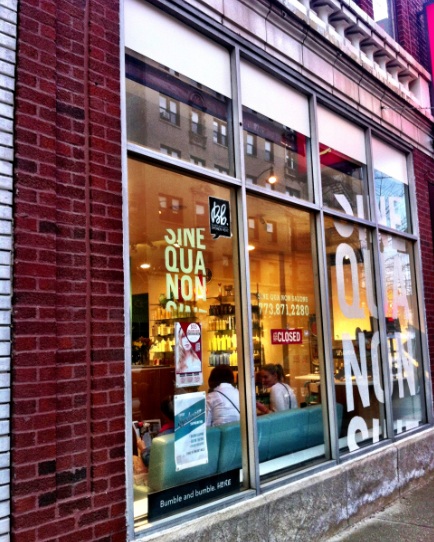 I may have given up the blow dryer in my own home, but I'd happily have someone blowout my hair every day for me if I could! At the start of the week, I marched on over to Sine Qua Non's Lincoln Park location, tucked in a hip loft on Lincoln, to check out their new blowout boost menu. There's a boost for times when you're craving big and thick, need a scalp detox or want high gloss. They've even created a first of its kind service – coined the Gemstone Blowout – using Bumble and bumble Straight Blow Dry Balm, which has a gloss-inducing blend of pearl, tourmaline, Brazilian green malachite and sapphire. After a quick consult, I went for the Gemstone. How could I resist? It's the start of the fourth day and my strands are still shining bright. Even though today's special "build an ark" to get around kinda weather feels rather threatening.
My stylist Carl used a few other Bumble products on my hair that I totally love. The Hairdresser's Invisible Oil, which is super softening and something I like to apply when my hair is air-drying, and the Does it All Styling Spray, which is new to me! He used it as a prep before running a flat iron through my hair (that's what responsible for the waves!)
Every Thursday, Sine Qua Non has a special $35 offer on all blowouts at its four locations! Full menu available here.
Note: The service was provided courtesy of the salon for editorial consideration. Opinions are my own.
NOTE: This location is now closed but Sine Qua Non still offers the service at their other locations, including the nearby Lakeview salon.