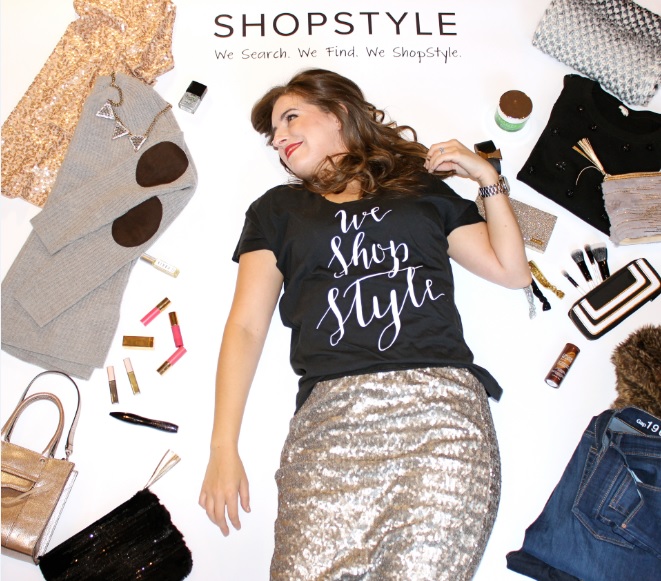 Sparkle! Fur! Glitter! And more glitter and sparkle, please. That, my friends, is how this next month is going to go down. Rather than just tell you, I teamed with ShopStyle to also show you. The December List is inspired by ShopStyle's latest print ad campaign. My modeling debut? Hardly…but it was fun! Let's discuss my style priorities for December.
Sequins. I'm sure there are studies out there that show how wearing sparkle improves your mood. Whenever I wear this skirt I'm always more cheery. I picked it up at Old Navy this fall. I saw it once and never again – online or in store. I'm so happy I acted fast. The gold top on the upper right is from J. Crew a few years ago. Season after season, it's still one of my most beloved tops.
Cozy knits and skinny jeans. Thick infinity scarves, like this one from Old Navy, are a staple around my neck. I'm also tempted to get this Madewell sweater in every color. It's so warm, easy to layer with and the suede elbow patches are the cutest. You will also find me wearing the Gap Legging Jeans pretty much every day. I have them in several colors and the ankle version is the perfect length for my short frame.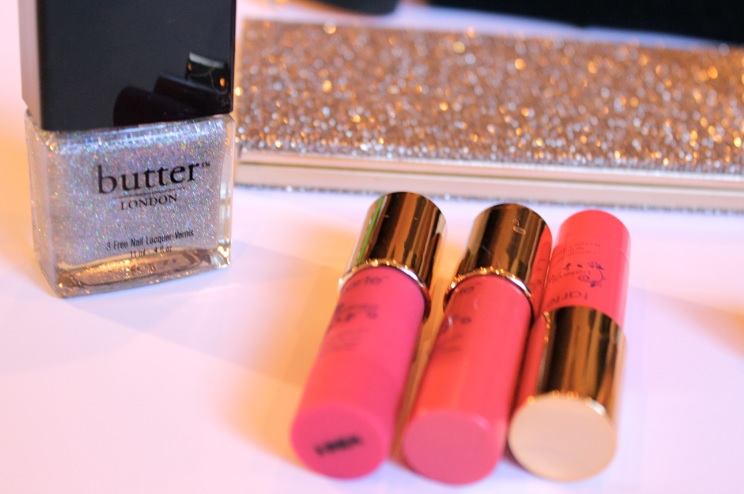 Neutral accessories. I like my holiday ice and accessories to be on the neutral side. My husband bought me this mini Rebecca Minkoff tote for our anniversary (I know…he's a keeper) and it allows me to carry a surprisingly large amount of stuff. Also, these fur-laced Stephanie Johnson makeup bags double as clutches. I'm especially obsessing over this one — love the gold tassels!  I wear this BaubleBar necklace every other day—one of my favorite purchases all year!— and am loving the Kate Spade-esque bracelet that came with the Tarte "Off the Cuff" Blush Palette. It sold out everywhere, so if you find it, do not hesitate.
Flawless skin. Nicky Kinniard gave me a sample of the Cane & Austin glycolic treatment pads and they are a lifesaver, especially when my skin is taking hit after hit. Between hardly any sleep, more wine than usual and holiday cookies, these will be a critical step in my nightly routine.
Big hair. No time like the holidays to make you want to backcomb your hair. I just discovered the miracle that is Oscar Blandi Dry Teasing Dust. If I'm tying it back, I'll be doing so with these sparkly ties from Kitsch.
Red lips, sparkly tips. Butter LONDON released sparkly "overcoat" nail polishes for holiday that you layer over your existing polish. Stardust makes everything look holographic. Red lips are so festive and I'll wear that more days than not this month. But a girl needs options, which is why the Tarte 8-piece mini Lipsurgence set is so perfect.
Note: This post is sponsored by ShopStyle and POPSUGAR Select.
P.S. Take a peek at the actual ShopStyle ads if you haven't yet!