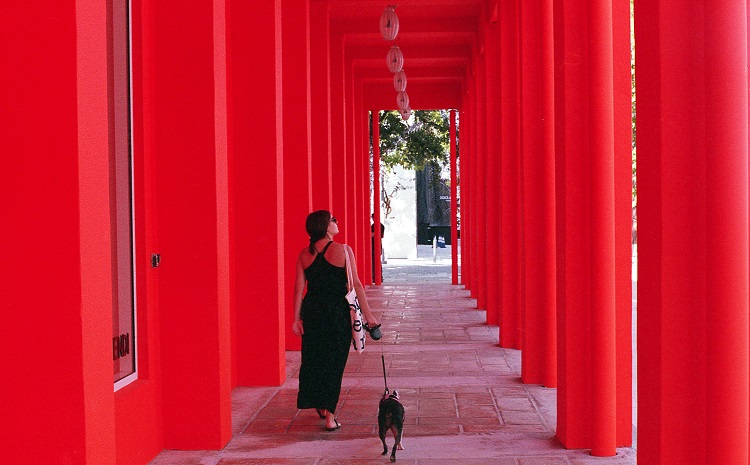 Betty turned 10 on Monday and it hit me hard. In part, because I can't seem to forget her cancer diagnosis despite her spryness, but also because I'm 10 years older, too. Ten years ago I didn't know that I hadn't yet figured out how to be a person in the world. Ten years ago I was blissful with naivety. Ten years ago my Betty was a puppy.
Here's the thing: I feel like my mid-thirties are coming down on me with force and erasing all of that feel good mojo that kicks in around 32. Un-f*cking-stoppable is how I felt. I'm convinced that 32 is a woman's power year, though I hear that our 40s bring a new sense of IDGAF that sounds pretty legit.
I was listening to Forever 35, my new favorite beauty-ish podcast, and Kate, one of the hosts, made a comment about finally accepting herself at age 38. I'm paraphrasing, but at some point, she realized that you just have to be good with where you are, your weight, your body, yourself. If you're always striving for something else, are you ever happy?  Where does that end?
This has been on my mind a ton lately.
Do I wish I was more motivated to work out? Yes. Do I wish I maintained a healthier ratio of pizza vs veggies? Of course. Those things are constant scales of struggle. But that's not my rub.
The issue is that I feel like I'm losing my voice. My ability to coherently express my needs, my wants, my fears. Especially that last one. I'm scared to lose (hi, dog cancer), to take risks and to own my failures and accomplishments.
You see, I tend to get quiet when there's a lot of noise. Literal and figurative kinds. I am completely overwhelmed at the moment by the endless feed of voices. The captivating and the ordinary. The hateful and the admirable. The irritating. The misleading. The well-intended. It's all just, I don't know, too much.
So I find myself retreating.
How have I let my sense of self be altered by the exhaustive supply of information? My voice has been a swirl of thoughts in my head, never quite landing where I intend them to. Even my journal writing has been timid. Withholding there is a real snooze. I'm boring myself!!
I'm second guessing self-expression and I fear that's the first step in forgetting who you are and what you stand for.
I've spent the better part of the past several months trying to get my head around what to do about it.
For starters, post this.
I'll also probably retreat some more. Maybe take a social break. Perhaps take some new vitamins. I'm not entirely sure. But I do know that nothing is ever just one thing. If noise is crowding me, it's probably because I'm feeling a little lost. And I say 'if' and 'probably' when I mean 'in fact' and 'definitely.'