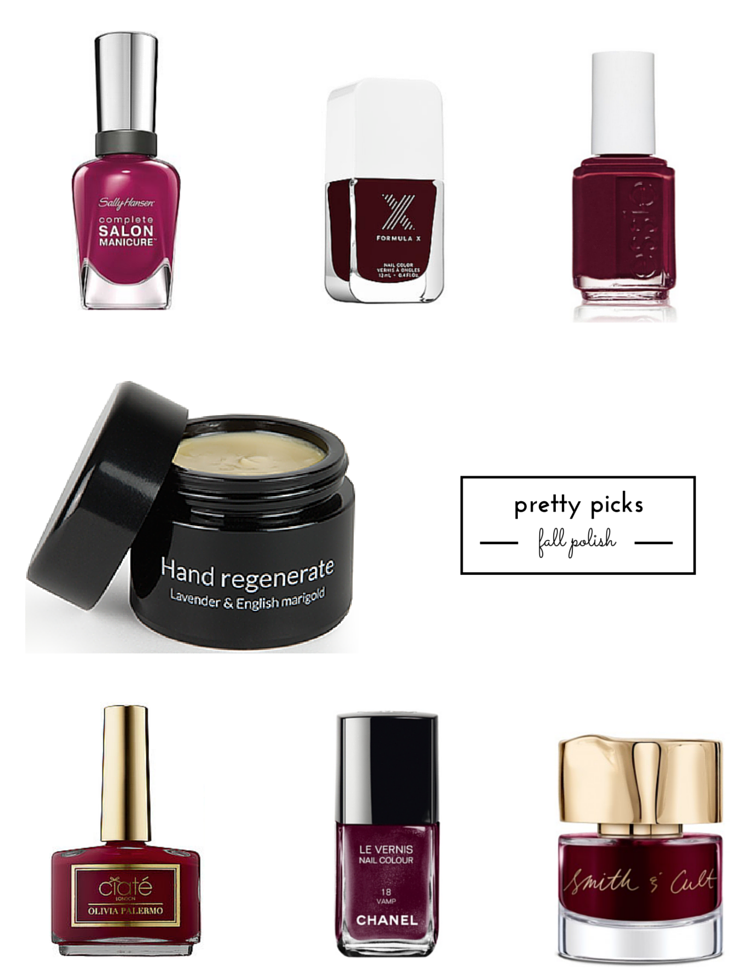 Life is unpredictable. My fall nail polish preferences are not. Like clockwork, I go through a pretty heavy month long wine-colored nail polish phase every year around this time. You may ring in sweater weather with pumpkin, but I choose vampy nails. I resurrect my old favs and because the world also loves this color for fall, always seem to find a few new bottles to add to the mix. I started the season with an oldie but a goodie – Chanel Taboo. It's a shimmery burgundy in the bottle but flashes navy and purple depending on the light. I don't think this color is even available anymore but Chanel Vamp is a fine distant cousin.
Sally Hansen Complete Salon Manicure (Ruby Do is my jam!) has the best brush in all of nail polish – perfect at-home mani every time. Have you ever tried Sephora Formula X? The wear time is excellent and they happen to have a very glossy looking berry among the new fall colors. Essie created the perfect raspberry with Bahama Mama. I'm all about Ciate right now (because…) and this Napa Valley inspired shade looks spot on. Smith & Cult has simply the best packaging. I mean, come on with that curved gold cap! The polish is virtually chip-proof. They nailed fall with the vampy Lovers Creep.
Every color looks better on since I discovered the swankiest hand cream on the planet. I'm not kidding – it's uber luxe. Between seasonal dryness and compulsive cuticle picking, I was in need of serious repair and Bottega Organica completely healed my hands. There's olive oil, beeswax and tons of plants and vitamins but the real miracle here is prawn sage. There's research that shows it helps to slow down aging in skin by helping to lengthen a segment of our DNA at the ends of chromosomes which shorten when we get older. I find this all very fascinating and I see it working on my hands in almost real time. I irrationally don't care how much this costs – it works!