Ever since I had my dermaplaning facial last month, I've been on top of my skincare game. I was always in the mindset that I was really good at taking care of my skin. I remove my makeup, wash my face every day, exfoliate weekly and use serums, masks, treatments. Yet, I was majorly dehydrated on my forehead and it was blackhead city around my nose. I thought I would get a gold star for being such a rock star but I think I was more of a B- student. I realized that I was too conservative with treatments. For awhile, I was hooked on May Lindstrom's The Problem Solver and I would mix that with either water or May's Honey Mud cleanser. It is an intense mask and can be extremely messy so I sort of halted that and got out of my routine. And it stayed that way. Oops.
But I'm back! And I've kicked it into high gear. Not all masks are created equal so you should feel free to use a few each week. You can multimask – the practice of using two or more masks at the same time on areas of your face – or pull a Martha and use a luxurious face mask when you get up. Never forget that Martha Stewart masks every morning. Consider that your permission slip to go buck wild. She's onto something with morning masking. I've started doing it, too, and the morning is where it's at. It forces you to start your morning doing something for YOU and you see an immediate result. Don't we all want to see the fruits of our labor?
I've got a good system going right now – I'm loving these four masks. My skin feels healthy and looks brighter. I'm due for another dermaplaning facial in the beginning of November at Elevare and am hoping she notices my hard work.
Kiehl's Turmeric & Cranberry Seed Energizing Radiance Masque is like a wakeup call for your skin.  You only need to wear this for 5-10 minutes and you'll see results. I like to put this on when I'm making coffee or packing my lunch and then I hop in the shower and rinse it all off. It has crushed cranberry seeds to gently exfoliate and the combo also brightens skin. When you get out of the shower, your skin is plump and rosy – like you just worked out.
I love the creamy clay texture of the Belif Peat Miracle Revital Mask. I am a huge fan of this K-beauty brand – the Aqua Bomb is the only thing that got rid of my dry patches last winter – and was really excited by the new Peat Miracle line. Trust in the power of peat. It's really cool – peat is sourced from the tundra of Finland and is made from dozens of different herbs that were deposited in glacial water pools. It's a rare botanical that I've never seen in beauty products. Even though this mask has clay, it's not drying and it really does a good job softening skin. I use this when I'm blemish-y and will sometimes just concentrate it around my nose and areas that I get blackheads.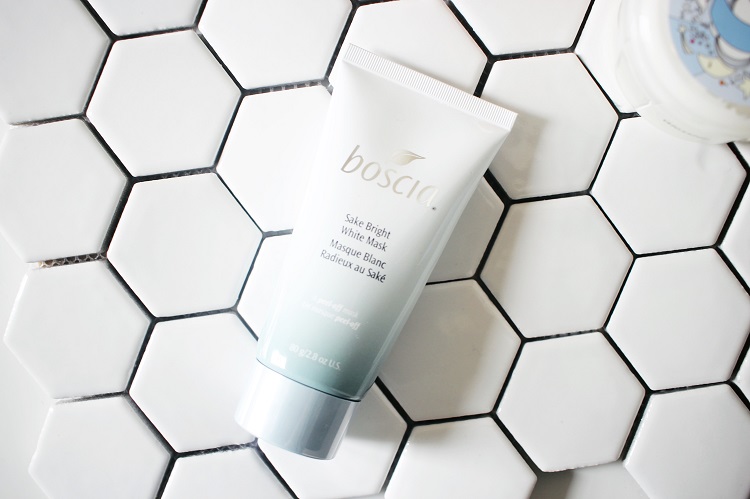 If I want start my morning feeling really accomplished, I go with Boscia Sake Bright White Mask. There's something about peeling this off that leaves me so satisfied. Like the high I get checking something off my to do list. The key is to layer on a semi-thick even layer and avoid eyebrows and hairline. Leave it on for about 25-30 minutes before peeling. There's an instant brightening effect and it helps with hyper pigmentation so over time the results will really last.
I'm almost scraping the bottom of my tub of Glossier Moisturizing Moon Mask and I know it's time to order up. This is intensely hydrating and I love the zing of hyaluronic acid in the morning. There's a cooling effect and it plumps up skin with moisture visibly so I like to use this on mornings after I've been drinking or out late. And I think we all know that Glossier can do no wrong – the $22 price tag on this is also really appealing.
Any favorites to share? Are you a morning masker, too?