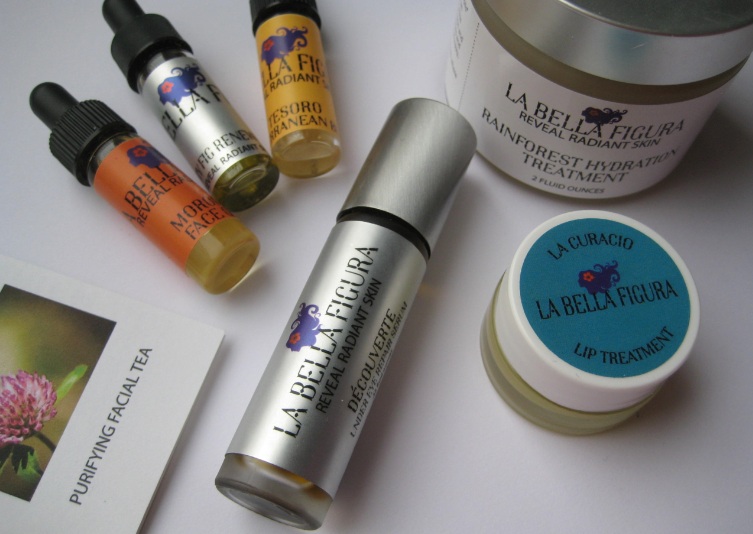 Made in Chicago, Inspired by the World. That's the phrase you'll see inscribed on the packaging of La Bella Figura's luxury organic skin care. The ladies who started the line, Victoria and Karen, travel the world in search of sustainable plant-based ingredients to incorporate into their products which are designed, hand-blended and shipped right from Chicago's Lincoln Square.
The brand's namesake is inspired by an Italian philosophy to always embody an authentic image and recognize the elegance in simplicity. After getting to know LBF's Victoria, it's clear to me that the passion that drives these ladies is uncovering the globe's most pure and powerful ingredients and introducing them to us. There's a story behind every product they make and each ingredient serves a purpose. As their new Bio Active and Bio Healing Masks were launching, Victoria explained to me how manuka honey came to be the base ingredient in both masks. Sourced from New Zealand, manuka honey is filled with therapeutic enzymes and natural antibacterials and is often used to treat burns. As she points out, just think of the effect it will have on a blemish or dry skin?
Claim to fame:  The first American brand to incorporate cold pressed barbary fig seed oil in its pure organic form. Barbary fig seed (a.k.a. prickly pear as it's often referred to in the U.S.) is a powerful healer and antioxidant powerhouse!
Passion project: Arguably, every LBF release is fueled by passion, but perhaps none more than Travel Diaries Collection. Each plant, flower, resin and essence was carefully selected by Victoria and Karen to aromatically bring to life memories of places they love.
Creator's POV: While I'm sure it's like being forced to choose a favorite child, Victoria and Karen did spill to me their must-have product from their line. Victoria especially loves the Barbary Fig Renewal Serum as it noticeably got rid of wrinkles (editors note: what wrinkles? Her skin is stunning!) and Karen can't be without Découverte Under Eye Repair Serum.
312 Beauty fav: The Rainforest Hydration Treatment and its blend of superfruit oils, mango seed butter, raw coconut oil, jasmine essential oil and chamomile is irresistible. Massaging this into my skin is an experience I look forward to daily.
Up next:  Just announced, LBF is delving into the world of organic makeup in 2013!
It's rare that you get to know the people literally making your skin care, but the La Bella ladies can be found striking up conversations on Twitter every day. You know, in addition to spearheading major innovations for the industry right here from the 312.