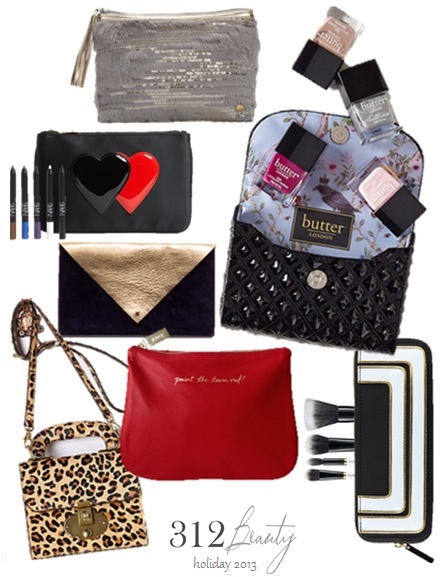 Today's gift guide goes out to all of my fellow bag ladies. Which is every female reading this, right? We're so easy to shop for. I'm bag lady central. Or, as I pronounce it, begs. The Wisconsin in me really comes out when I say the word. While this gift guide could have gone on for days, I edited myself and pulled together what I think is a supremely awesome set of bags that would make someone very happy this holiday.
Here's what you need to know.
The holidays translate to amazing value sets in the beauty world. Take this Guy Bourdain x NARS Larger than Life eyeliner set. Or the MAC "Stroke of Midnight" gift sets which come with some of the best bags I've seen from the brand in years. Love the nylon black and white with gold piping. Bonus? The mineralize brushes that come with this set are stellar.
I can practically feel the butter soft suede and leather on this midnight blue and gold Baggu envelope clutch. I want to put my things in there, badly.
Just add red lipstick to this Jouer "It" bag and you have a truly chic gift.
Butter London had me with the quilted patent bag but really lured me in with four of their best polishes (Yummy Mummy!) all for under $40. This is one of my top picks for the season!
A mini leopard crossbody satchel? Yes. Yes. Yes.
Sparkles and fur? Obviously this Stephanie Johnson makeup bag is a must.