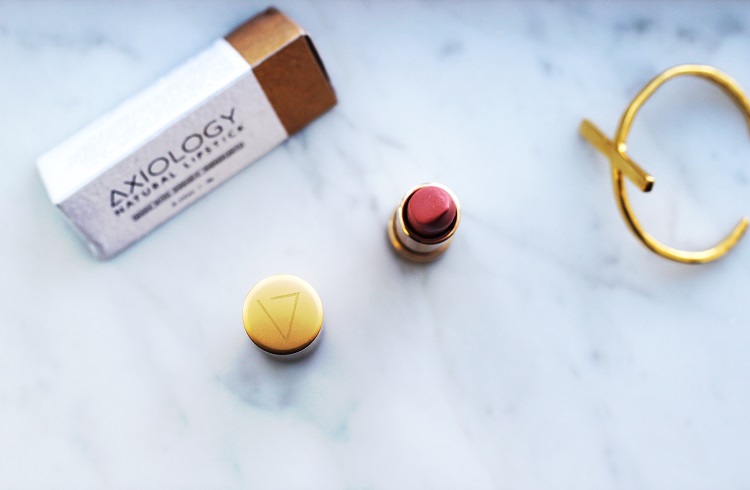 You know how fancy lipsticks always have a special click in the packaging? Listen to the sound of a Chanel lipstick opening and closing. Or the Rouge d' Armani. Click click. There's also a certain weight to the tube itself that feels really good to hold. Maybe that's why I've always been a lipstick splurger.  That's the first thing I thought of when I tried – and instantly obsessed over – Axiology Beauty's lipstick. An organic vegan lipstick that rivals the world's most luxurious brands. It lives in this sleek gold tube and to open, you press down on the bottom and up pops the lipstick. Click click. It's an experience. As it should be sometimes with beauty.
I've found in the Axiology line the perfect pinky nude with just the right balance of peach – a color I always go to no matter how many similar I have. It's called Philosophy.  Axiology is the result of a passion project by Brooklynite Ericka Rodriguez who traveled to Bali to study ingredients and packaging when she started to experiment with making lipstick. That cool triangle box it comes in is actually made from paper collected from all around the island of Bali that would otherwise be trash or litter and boiled down to a pulp, laid out to dry and folded and decorated by hand. Pretty cool right?
The color is vibrant but never heavy or waxy. Everything in that shiny gold tube is pure and nourishing, like avocado butter and organic coconut oil. Staying power is good but I'll admit to a touch up for the sake of the hearing the click click.