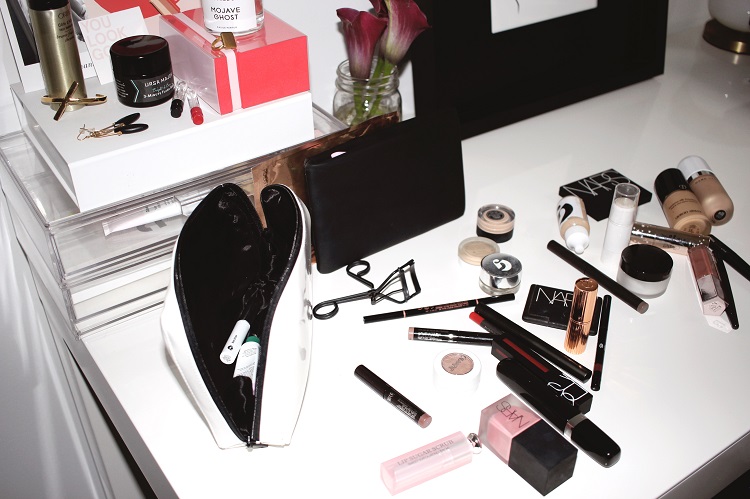 For one month only!
The way I've been working this beauty wardrobe is on a seasonal basis. And this would be the time I get ready for the next edition, however, December is in a world of its own. Plus, nearly half of mine will be spent in Miami so I'm not ready to hunker down for winter just yet. I know my winter wardrobe will be simple and skin-centric so I'm going to get glitzy now.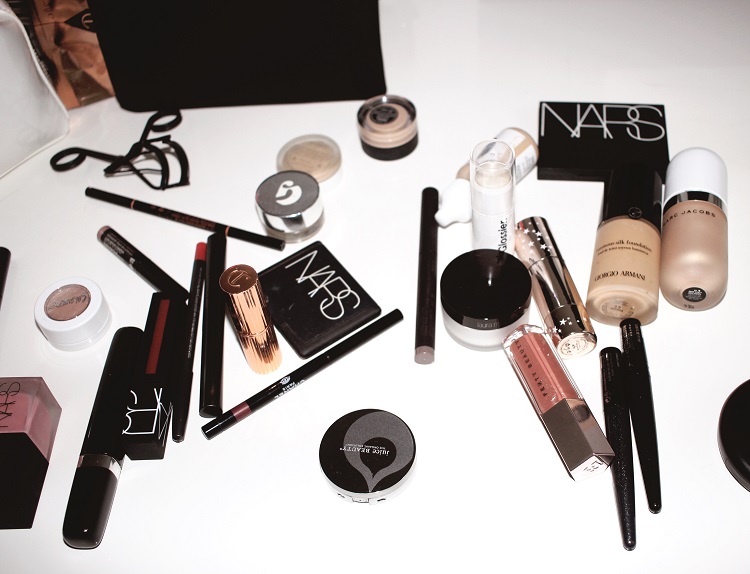 My approach to the holiday beauty wardrobe is classical, the same way I view the holidays. I like a tradition. I still hang ornaments I made in the 80s on my tree, all right?
The holiday beauty staples, as I see them.
Red Lips.
First things first. I aspire to wear my reds more. I just am not an everyday red wearer but the mood strikes often in December. The more noticeable, the better. I've got the new NARS liquid lip formula in Starwoman to put to test and Rihanna's Stunna Lip Paint, which is supposed to be the one perfect universal red for everyone. With a premise like that, how can I not? I also made sure to put a bright red MAC Pro Longwear Lip Pencil in there for support, along with the first step of Dior Sugar Lip Scrub. It's a balm, it's a tint, it's a scrub – it's all three and it's perfect!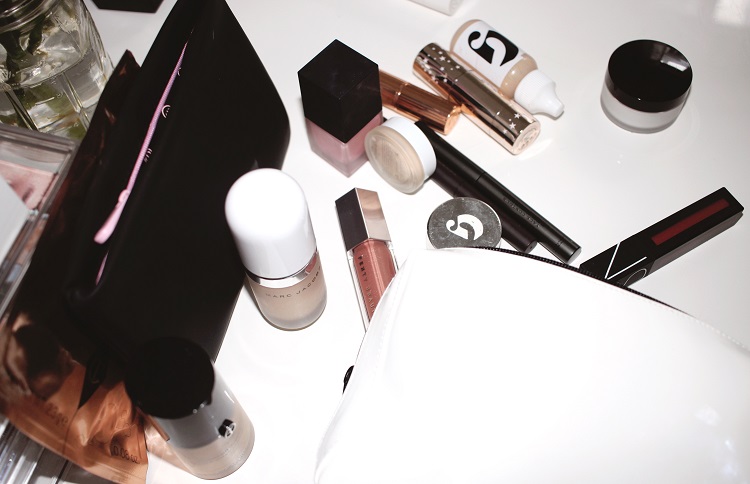 Gold.
This is starting off like a templated holiday ribbon. I'm OK with that. Because, I'm bringing back the Marc Jacobs Dew Drops highlighter in the golden peachy color. This is a total build your own adventure. Sometimes, I'll use this as a base or mix it in. The highlighter is imperceptible when mixed in with the Armani Luminous Silk Foundation – my foundation of choice this month – but you will notice a difference. The best kind of makeup!  I'm also carrying over some complexion staples from fall: Glossier Skin Tint, Stretch Concealer and NARS Soft Matte Concealer.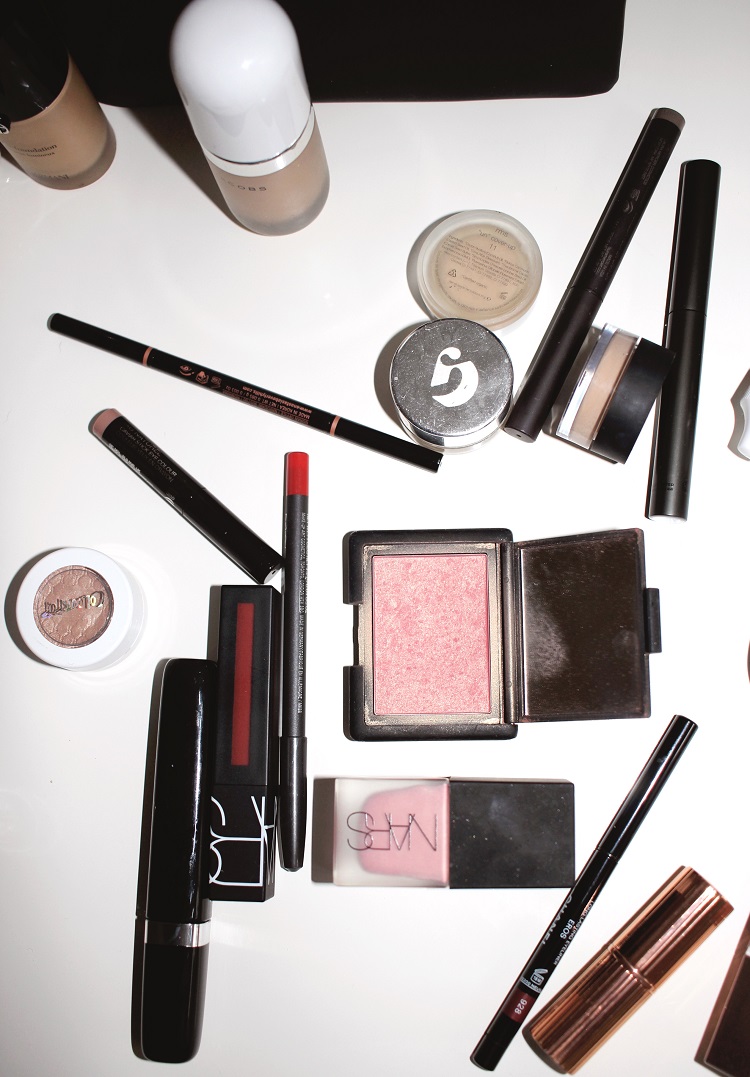 I'm also bringing in gold undertones with the return of NARS Orgasm (x2). I've bene thinking about this blush lately so knew it was time to break it out for holiday. I've had my compact for yearsss and I love it (totally still good… it's powder!) I know Orgasm is crazy popular but also polarizing – I'm in the love it camp. I'm including the powder and liquid blush version for use together and individually. I find the liquid is a more subtle, almost highlight version and it's unbelievably pretty when layered. My girl Jordan at Petite Modern recommended it and I'm so glad I picked it up.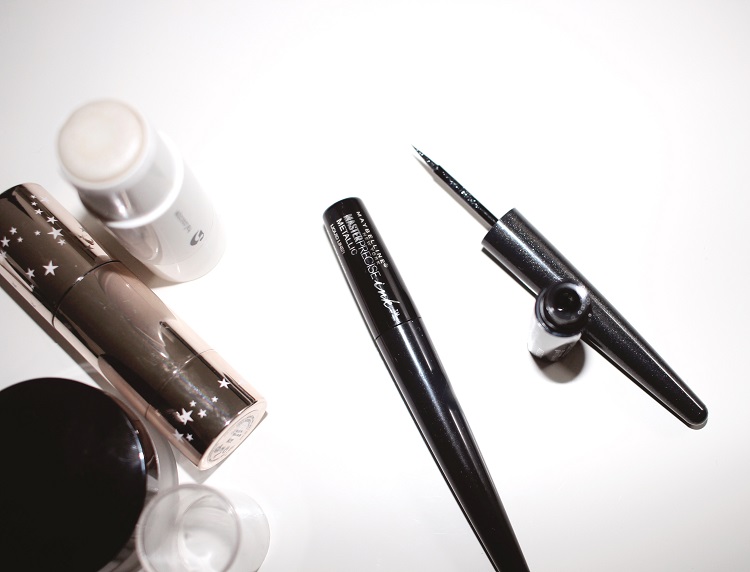 You pick glitz.
Think shimmer that goes beyond your regular acceptable definition. My way in is with my eyeliner. Sparkly eyeliners. Sparkly eyeliners, guys! Who am I? But, honestly, Maybelline blew me away with their metallic ink liquid eyeliners. They sent over all of the colors of the rainbow and I of course gravitated to the graphite and black shades. They're deep inky shades with a hint of glimmer – exactly what any woman of any age would feel good wearing. Coat the lashes with Marc Jacobs O!mega Lash and feel like a present.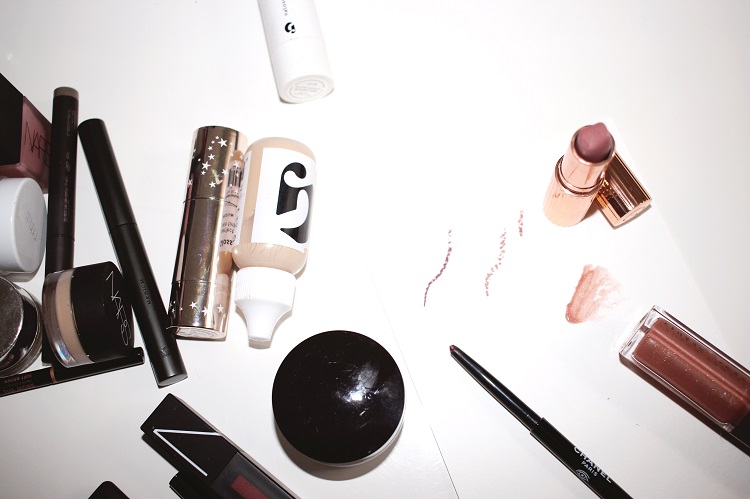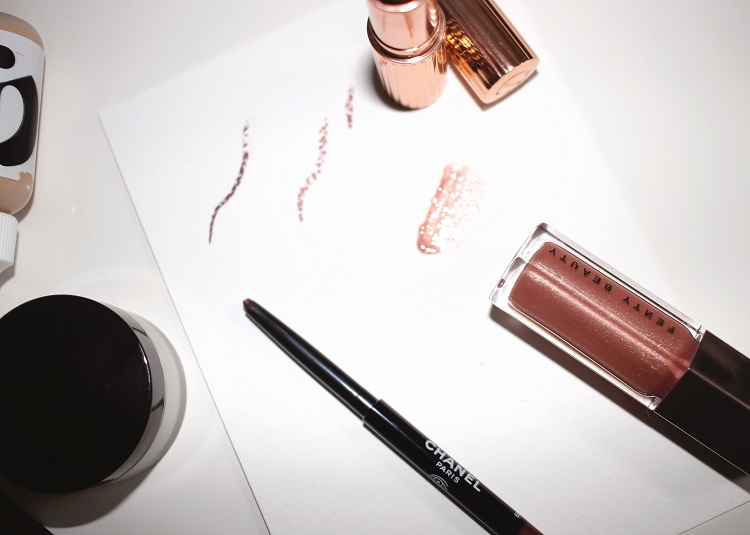 Lips are the next obvious sparkle 'em up landscape. For those days where I'm going red, I plan to layer the sexiest combo: Charlotte Tilbury Pillow Talk Lipstick and the sparkly, glitzy, yet totally woman of a certain age, Fenty Gloss Bomb. Like her Lip Paint, Rihanna declared this the universally flattering gloss. There's not a ton of pigment in it but what is a translucent-ish brown so it isn't going to give anyone concealer lips. I dare you to find a better combo.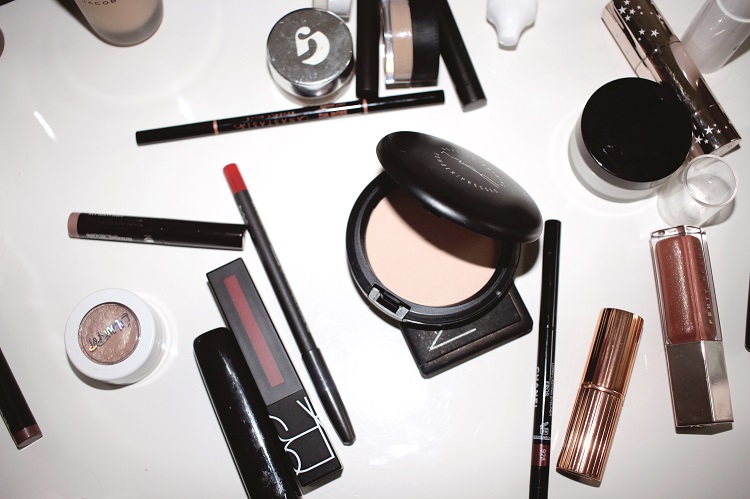 Party purse
You could say this is clutch … I WILL LAUGH AT THIS JOKE EVEN IF YOU WON'T. I always like to have a few always in the bag options for when you need to touch up on the fly. For me, this isthe MAC Next to Nothing Powder Compact (the mirror is key), RMS Uncover Up and highlighter. I'll be doubling up on the latter with Glossier Haloscope in Moonstone and Ciate Dew Stick in Glow. When in doubt, layer them together. The Ciate is much more 'wet' and transparent whereas the moonstone is pearly and reflective. I like how they complement each other.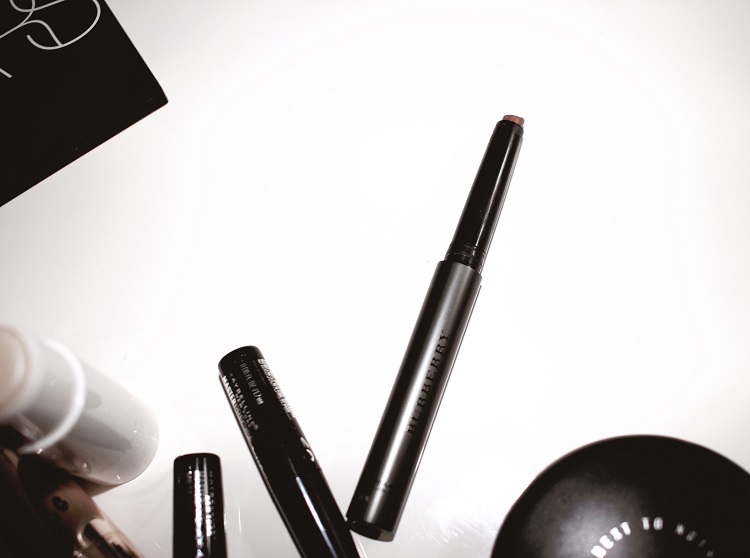 Contour or not
Listen, this isn't for everyone. It's not even really for me. Yet, I can't help but trying my hand at it with the Burberry Contour Pen in Light/Medium. It was an ITG Top 25 inspired buy.
It's so creamy, you could almost blend it all away. It works on eyes, too. Takes down the intimidation factor and the extra-ness of contouring to a normal level. I also watched this helpful tutorial from Burberry's Wendy Rowe that also convinced me this was a need.  I also added back in my trusty NARS Laguna for moments when I just want bronzer.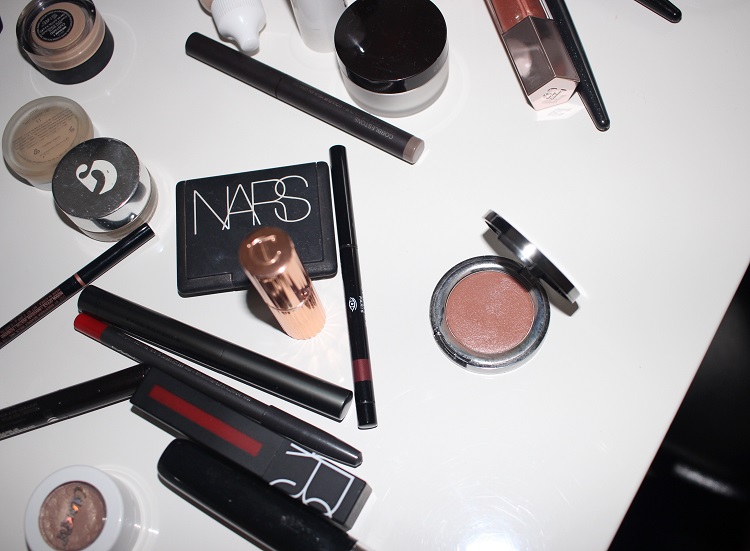 Day to night.
We've got a few holiday parties to go to and I know we'll take advantage of nights out in Miami. Therefore, day to night! I lead a very day to pajamas life, happily, so this is a total shift in my day to day.  Laura Mercier Caviar Sticks make it so easy to instantly smudge up a smoky eye. I'm really into the new matte formula – the shade Cobblestone is the perfect taupe base to build on!
I'm adding the Juice Beauty cream blush in Flush – a very dewy nude. As a rule, I like to touch up for night with cream formulas since they give skin a healthier bouncy look. This is my pick! It's also really perfect for every day wear. It's a nice balance to all of that orgasm cheek color I picked as well. Also, if I'm touching up my complexion after a long day, I like RMS Uncover Up since the coconut oil formula revives the skin as well versus looking like you're piling on.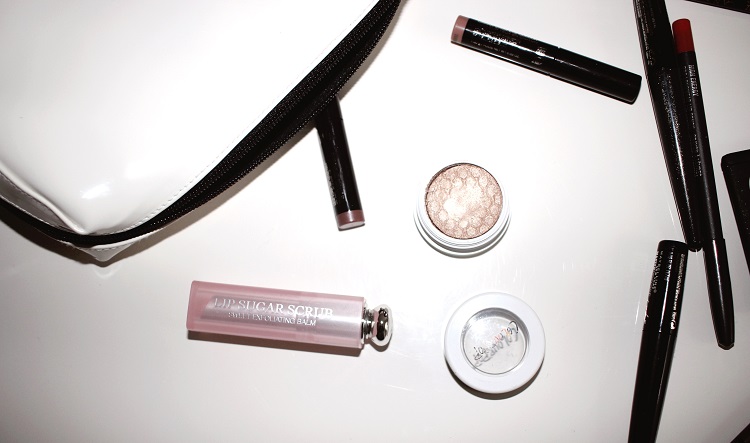 And, my favorite party trick, is Chanel Stylo Eyeliner in Eros, a popping burgundy. I think the color was limited, but I can't help but use this every time I get. These eyeliners are probably the only pencils I like (they twist up versus sharpen) because they don't smudge. I remember watching this video last holiday from I Covet Thee when she applied this for a day to night look over her existing eye makeup and I've replicated it ever since. Pat a little ColourPop Truth (the creamiest powder shadows there ever were) on the lid and then go to town with Eros. DONE!
Told you this was going to be extra.